Gore Libraries, Invercargill Library and Southland Libraries have partnered with Ngā Taonga Sound and Vision to provide Southland regional history on one website.
More than 700 items of local film, television and radio history that were made in, around or about our region over 100 years.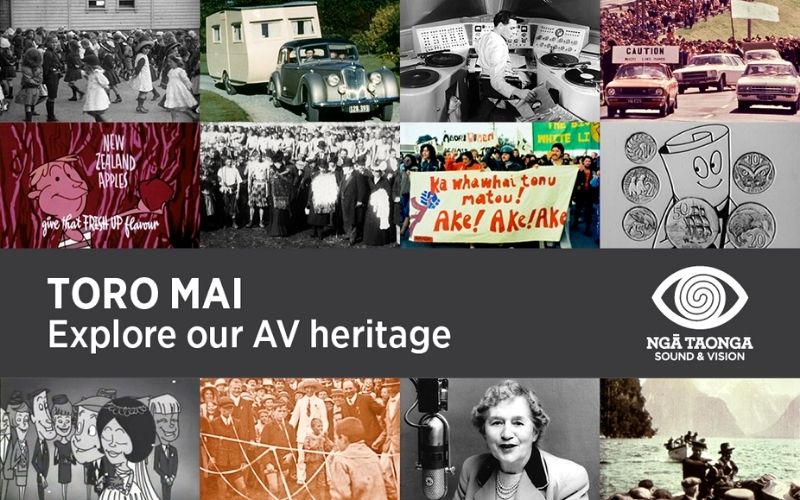 NZ Libraries Catalogue
Te Puna Search is a web-based search service giving access to what is held in New Zealand libraries and worldwide.
Te Puna Search is the view of the combined catalogue of New Zealand libraries on WorldCat, so customers can limit their search to the holdings of New Zealand libraries or widen their search to include worldwide library holdings.
If you are wanting an item you have found on Te Puna Search, you will need to visit your local library and they will interloan the item through the correct channels for you.
There may be fees to do this.
NZ Digital Content
DigitalNZ is the search site for all things New Zealand. We connect you to reliable digital collections from our content partners, including:
libraries, museums, galleries
government departments
the media
community groups, and others
On DigitalNZ you can discover more than 30 million digital items from more than 200 organisations on any topic, all for free. You'll find:
videos, audio recordings
newspapers, news reports
maps, photographs, artworks
Index NZ - articles
Index New Zealand is a searchable database that contains abstracts and descriptions of articles from about 1000 New Zealand periodicals and newspapers published from the 1950s to the present day.
The periodicals range from academic research journals to magazines.
Find NZ articles
Find material by or about New Zealanders from a range of New Zealand newspapers and journals.
findNZarticles began as a collaboration between:
Christchurch City Libraries
Dunedin Public Libraries
Landcare Research NZ Ltd, and
the National Library of New Zealand.
Participation is open to any interested institutions. Contact us for more information.
Driving tests
Join over 70,000 people per month using Driving Tests driver training to become excellent drivers.
Learning to drive (free tests)
Driving at work (fleet driver training)
Free NZ road quizzes to get you started
Featured courses
Choose which vehicle licence you are going for from a drop down menu to get suitable tests.
National Library collections
Explore the National Library and Alexander Turnbull Library Collections online to access New Zealand collection images, websites, audio-visual material, and documents.
Links to
Collections highlights
Information about using the collections
National Library catalogues
Social media links